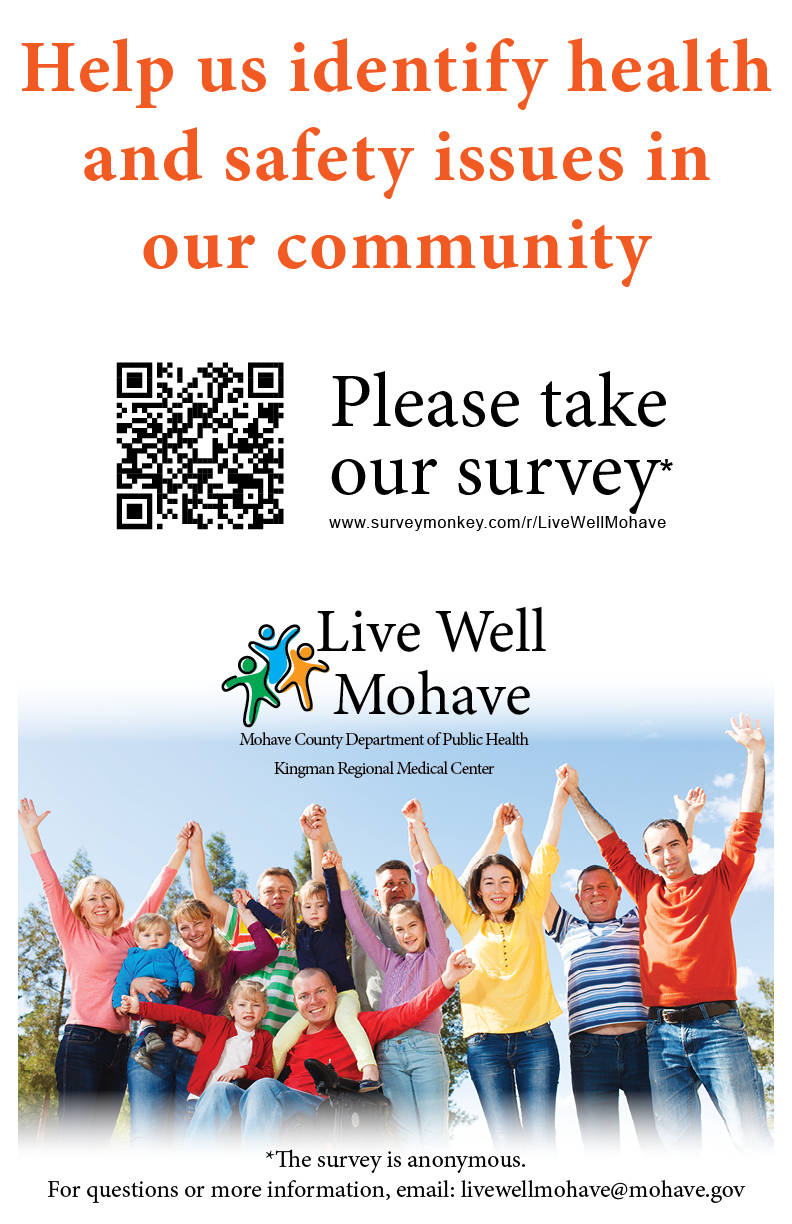 Public urged to give feedback on community health
Kingman, Arizona, May 27, 2021 – Live Well Mohave invites the public to complete a survey about community health in Mohave County. Live Well Mohave is an initiative dedicated to improving health, safety, and quality-of-life in Mohave County communities.
Since 2008, the Mohave County Department of Public Health (MCDPH) and Kingman Regional Medical Center (KRMC) have partnered to lead the Live Well Mohave project, which includes the following tasks every three years:
• Collecting statistics and community feedback that paint an accurate picture of public health in Mohave County. This information is published in a formal report called the Mohave County Community Health Assessment (CHA).
• Collaborating with stakeholders in individual Mohave County communities to 1) identify priority health and safety issues in their community; and 2) develop goals and actions for addressing those issues. These efforts are documented in a Community Health Improvement Plan (CHIP) for each respective community.
The Community Health Assessment survey provides an opportunity for your voice to be heard regarding local public health issues. The survey takes approximately 10-14 minutes to complete.
Each community's CHIP is shaped in part by responses to the Community Health Assessment Survey.
The survey is available now at ­­­­­­­­­https://www.surveymonkey.com/r/LiveWellMohave and will remain open through July 9, 2021.
For questions or more information, email livewellmohave@mohave.gov.
Attention Downwinders!
Did you know the RECA Law is due to EXPIRE in July 2022?
Detonation of Fizeau on September 14, 1957 at the Nevada Test Site
PUBLIC MEETINGS!
Radiation Exposure Compensation Act (RECA)
<![if !supportLists]>· <![endif]>Receive information regarding the program's scheduled sunset (expiration) date and what you can do to help
<![if !supportLists]>· <![endif]>Have your questions answered about the program and its requirements
<![if !supportLists]>· <![endif]>Come see if you qualify for the RECA compensation ($50,000 for qualifying downwinders)
<![if !supportLists]>· <![endif]>We will have applications and information available to get anyone who qualifies started
on the compensation process
Mark the following dates and join us in one of these locations (local time):
Thursday, May 6, 2021 Lincoln County Alamo, NV Annex, 121 Joshua Tree Street, 6:00-7:00pm
Friday, May 7, 2021 Littlefield, AZ District Boardroom, 3490 E. Rio Virgin Rd, 2:00-3:00pm
Friday, May 7, 2021 Mesquite, NV Library Conference Rm,160 W. First North St, 4:30-5:30pm
Saturday, May 8, 2021 Bunkerville, NV Community Center, 150 W. Virgin Street, 10:00-11:00am
Saturday, May 8, 2021 Moapa Community & Rec Ctr—Moapa Valley, NV
1340 E. State Highway 168, 1:00-2:00pm
Saturday, May 8, 2021 Moapa Valley Community Center—Overton, NV
320 North Moapa Blvd, 3:00-4:00pm
For questions, call St. George Regional Hospital's Radiation Exposure Screening
and Education Program (Downwinder's Clinic) 435-251-4760
SOCIAL DISTANCING WILL BE FOLLOWED - PLEASE WEAR A FACE COVERING (MASKS WILL BE AVAILABLE)
---
Beaver Dam has a shuttle service to Las Vegas.
Look in the Business Directory
---
Mesquite has a Victims of Crime program that serves the Arizona Strip
---
Beaver Dam

Come and see what your neighbors are talking about.

Join Nextdoor Beaver Dam, the private website for our neighborhood.

Blackburn's Propane now delivers to Beaver Dam, Littlefield and Scenic!

Call them for more information, prices and tank rentals.

They have the BEST PRICES & SERVICE!

Remember,

All Classified Ads Are FREE!!